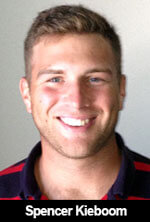 "The hassle of wearing eyeglasses and contacts is a lifestyle of my past. Growing up with eye sight issues, it was my only option to be able to drive, study and play baseball. The glasses and contacts routine was an ongoing chore for over 10 years. While it was an annoyance, I was constantly dealing with irritation, dryness and other contact issues. The strain on my eyes without contacts or glasses was unbearable.
Thankfully, I learned about the option of eye surgery and the LASIK operation at Georgia Eye Partners. I qualified and fit the bill for "fixable" eyes. My doctor assured me the procedure would only benefit me. I felt comfortable going into the operation, as Dr. Gabianelli exuded confidence and is surely an expert in the field.
With the LASIK operation I recently received, I can see clearly without the need of glasses or contact lenses. The operation was simple and painless and the recovery was surprisingly very quick. It's better than anything I could have imagined. In just a few short weeks, I can see better than before, and everyday it only gets better. Before the surgery, I could see 20/20 with contacts. One day after the procedure I could read 20/15.
Dr. Gabianelli was incredibly professional and accommodating. His staff at Georgia Eye Partners went above and beyond my expectations. I have more confidence in what I do now and look forward to daily activities using my eyes.
Waking up in the morning to a shockingly clear world is something I cherish now that I had the LASIK surgery. The procedure and its outcome have been life changing. If anyone ever asks if they would benefit from LASIK, my answer is yes and I know the place to go. I couldn't have imagined my experience any other way." —Spencer Kieboom