Cornea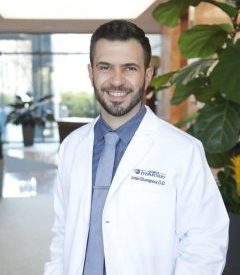 Dr. Amir Ghanipour joined Georgia Eye Partners in 2021 after completing a clinical residency with us, bringing with him a desire to serve the community, share his expertise, and work closely with his experienced colleagues. His primary focuses include ocular and infectious disease, glaucoma, cataracts, and pre- and-post operative care.
Dr. Amir started his career in eyecare by working in an optical lab manufacturing spectacles. Soon after, he pursued an opticianry degree in Seattle and became a Licensed Dispensing Optician in the state of Washington. Within a few years of working as a licensed optician, he went on to earn his Bachelor of Science in vision science and Doctor of Optometry degree from Pacific University College of Optometry. In the past year, he has trained at Virginia Eye Consultants and Barnet Dulaney Perkins Eye Center with a focus on ocular disease and pre- and-post operative care and at Community Health Centers of the Central Coast and Davis Eyecare with a focus on primary care optometry.
Dr. Amir's experience is unique in that he did not follow the traditional path to optometry school. He discovered the rewarding nature of eyecare by volunteering in local and international eyecare clinics that he's still involved with today. Since then, he's participated in several eyecare mission trips, including two trips to Jamaica with Great Shape! Inc, two trips to Senegal with Amigos Eyecare, and three trips to Guatemala with Enfoque Ixcán. His dream is to create sustainable eyecare clinics in communities with little to no access to reliable and consistent eyecare.
Outside of work, you can find Amir playing tennis, taking a ballroom dance class, or in pursuit of his next cup of coffee. He enjoys traveling, meeting new people, and exploring new cultures.
Dr. Amir works alongside Dr. Schoenberg in our Johns Creek and Woodstock locations.