Home » Blog » Visual Rehab, Life After PKP
Visual Rehab, Life After PKP
Posted by: Georgia Eye Partners in News and Updates
New Surgical Options Following Corneal Transplantation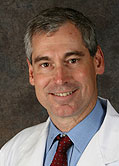 By Eugene Gabianelli, M.D.
The corneal department at Georgia Eye Partners, including Dr. Gabianelli, Dr. Feinberg, and the newest member, Dr. Karen Sumers, have had great clinical success utilizing various surgical techniques to improve vision and treat the full spectrum of refractive errors. The visual rehab of a penetrating keratoplasty patient presents many challenges and opportunities. Cataract surgery after a corneal transplant can be extremely rewarding and allows the surgeon to eliminate or reduce large amounts of astigmatism and spherical refractive error. We recently did a retrospective chart review and found that these patients do very well with toric IOLs. The results were quite impressive.
Post PK Patients
Pre op (before Toric IOL)        S/P Toric IOL
Mean Pre Op Cylinder: -3.54        Mean Post Op Cylinder: -1.25
Mean Pre OP Sphere: -6.58        Mean Post Op Sphere: -0.40
Mean UCVA: CF        Mean UCVA S/P Toric: 20/40
While some doctors may have concerns about the use of a toric IOL in this setting, we have found that if you protect the corneal endothelium with extra viscoelastic and perform phacoemulsification very carefully, you can reduce endothelial cell loss. Furthermore, we have left sutures in place longer in this group to minimize cylindrical change upon suture removal. We also have an extensive series of PRK following PKP procedures, and this remains an option for the post-transplant toric IOL patient as well. Call us to discuss these interesting options for post-transplant visual rehab!
---