Home » Blog » Dr. Eugene Gabianelli's LASIK Expertise a Homerun for Pro Baseball Players
Dr. Eugene Gabianelli's LASIK Expertise a Homerun for Pro Baseball Players
Posted by: Georgia Eye Partners in News and Updates
Professional baseball players Spencer Kieboom and Kyle Davies' careers depend on their ability to see 95 mph pitches. Both Davies, a pitcher in the Minnesota Twins minor league system, and Kieboom, a catcher in the Washington Nationals organization, had worn contact lenses for years, but hours outside in the sun and dirt and long stretches on the road had left their eyes irritated, dry, and susceptible to infections.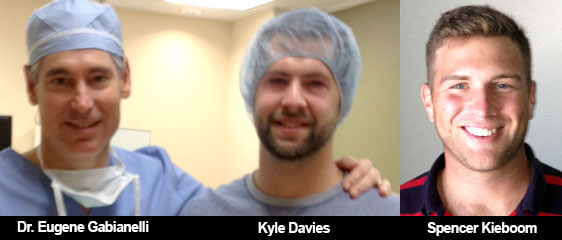 When Davies asked his optometrist, Dr. Laura Depoe, about LASIK surgery, Depoe referred him to Dr. Eugene Gabianelli of Georgia Eye Partners. A pioneer in the development of LASIK procedures, Dr. Gabianelli has performed more than 10,000 LASIK surgeries.
"I was always curious about the procedure, but very hesitant because of the importance of my eyes in my career as a baseball player," said Davies. "When I spoke with Dr. Gabianelli, he explained everything to me and helped me feel at ease. When I learned that he had performed thousands of these procedures and I understood his experience, I knew I was in good hands."
Before surgery, both Davies and Kieboom had 20/20 vision with the aid of glasses or contacts. Since their procedures, they are experiencing 20/15 vision with no aid.
"Dr. Gabianelli was incredibly professional and accommodating," said Kieboom. "His staff at Georgia Eye Partners and TLC Laser Eye Center went above and beyond my expectations. Waking up in the morning to a shockingly clear world is something I cherish now that I had the LASIK surgery. The procedure and its outcome have been life changing. If anyone ever asks if they would benefit from LASIK, my answer is yes, and I know the place to go. I couldn't have imagined my experience any other way."
Davies would also recommend LASIK at TLC Laser Eye Center. "For me, Lasik was definitely worth it," he said. "I put my career on the line when I elected to have surgery on my eyes, and the payoff ended up being huge."
---