Home » Blog » Georgia Eye Partners Welcomes Its New Residents
Georgia Eye Partners Welcomes Its New Residents
Posted by: Georgia Eye Partners in News and Updates
Georgia Eye Partners is proud to welcome this year's new residents to the practice. Being the sixth year of our residency program, we are proud of the successful educational opportunities this program provides. This program started with one resident per year, growing to three residents currently. This growth offers our residents a robust clinical training experience with exposure to all specialties within the practice.
Georgia Eye Partners is dedicated to providing our patients in Metro Atlanta and North Georgia with the highest quality medical and surgical specialty eye care. We are proud to partner with optometric educational institutions helping to train and educate optometry fourth year students as well as the optometric residents.
New Residents
Dr. Huy Do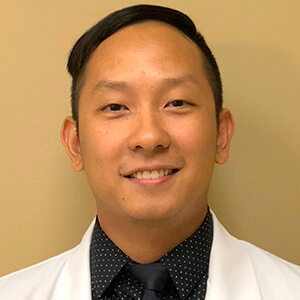 Dr. Huy Do completed his Bachelor's of Science degree in General Biology at Portland State University in Portland, Oregon in 2014. He then enrolled into Pacific University located in Forest Grove, Oregon where he earned both his Doctor of Optometry (OD) and Master of Education (M.Ed) degrees in 2018.
As an intern, Dr. Do completed rotations at the Portland Veterans Administration Hospital in Portland Oregon, Pacific Cataract and Laser Institute in Bellevue, Washington, the Optometric Vision Development Center in San Diego, California, and Oak Harbor Naval Hospital in Oak Harbor, Washington. He also has experience in recognizing binocular dysfunctions in children and its correlating effects in the classroom through his M.Ed. coursework.
While in optometry school, Dr. Do was an active member in the American Academy of Optometry (AAO) and American Optometric Student Association (AOSA). He was also a member of the Beta Sigma Kappa (BSK) Honor Society and volunteered on an outreach trip to provide eye care to those in need in Guatemala. In addition, Dr. Do conducted a thesis project on the symptomatic correlations in children with Attention Deficit Hyperactivity Disorder (ADHD) and Convergence Insufficiency (CI). He presented his original research at the AAO meeting in Chicago, Illinois and the College of Vision Development (COVD) meeting in Bellevue Washington this past year. For his work, he won the BSK Chapter Award for Exceptional Research, a graduate award for Pacific University's graduating class of 2018.
Dr. Do enjoys trying new craft beer, noodle dishes, sports, and is an avid Portland Trail Blazers fan. Fun fact: he is allergic to peaches.
Dr. Robert Stover
Dr. Robert Stover grew up in Charlotte, North Carolina, and was actively involved in sports and outdoor activities. He received a Bachelor's of Science degree in Biology at Elon University, and went on to attain his Doctor of Optometry degree at Pennsylvania College of Optometry with Honors.
He was a member of the Beta Sigma Kappa Optometric Honor Society and has recognition in Specialty Contact Lens fitting from Salus University and Blanchard Contact Lenses. Dr. Stover completed rotations in a number of different optometric settings including the DiLorenzo TriCare Clinic in the Pentagon, the Cornea and Specialty Contact Lens Clinic of The Eye Institute in Philadelphia, Pennsylvania, the WG Bill Hefner Veterans Affairs Medical Center Outpatient Clinic in Charlotte, North Carolina, and the Eye Centers of Central PA in Lewisburg, Pennsylvania. He was able to advance his clinical experience in areas of primary care, specialty contact lens fittings, glaucoma, pre- and post-operative management of refractive and cataract surgery, and management of advanced ocular disease.
Dr. Jeffrey Cofie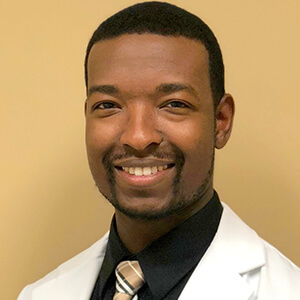 Dr. Jeffrey Cofie is originally from Charlotte, North Carolina and earned his Bachelor of Science in Biology from East Carolina University. He then earned his Doctorate of Optometry from the Pennsylvania College of Optometry at Salus University, where he was inducted into the prestigious Beta Sigma Kappa International Optometric Honor Society.
Dr. Cofie is a proud member of both the American Optometric Association and the Georgia Optometric Association. In addition to having served multiple leadership roles, he has participated in numerous school and community-based vision screenings, with an emphasis on providing eye care services to underserved neighborhoods. He is looking forward to continuing this trend of active community involvement and giving back to the greater Atlanta area.
Please join us in welcoming these great doctors to Georgia Eye Partners!
---